On Sunday 25th May, 2015 a group of over 75 gorgeous individuals from around the Forster and outlying areas gathered with a common intention, to Pray for Nepal. This came in the shape of a shared yoga practice and kirtan (chanting with music) and a social chai to complete a beautiful afternoon.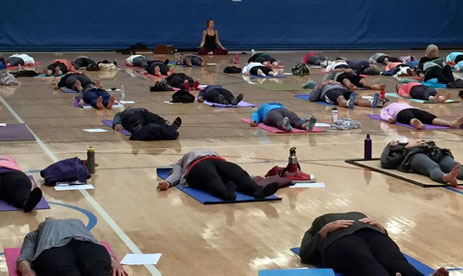 A big thank you goes to the Forster YMCA for providing us with the venue for free and the support I needed to make this happen. An especially big thanks to Mia :) and the girls at the front desk who had to make it up as they went along, you did good :)
The money that was raised (as of June 6, 2015 is over $5000) will go directly to the people of Nepal who have so little and are now struggling to rebuild their lives after the awful earthquakes and now landslides that are consuming their lives, homes and livelihoods. 
The event was offered for a donation of $20 (and many gave a lot more) and also the donations that flooded in before and after have been more than generous. Numerous small businesses in the area also donated gifts for the raffle. And individuals gave the gift of food and chai for the social gathering afterwards. Other members of the community gave their time to help set up, run and pull down the event. And their were also all those who spread the word, which helped to get so many there and so many still donating. 
The energy in the room was humbling and everyone was so calm. Even though some of the practices may have been too easy, or too hard or too different, everyone gave and gave and the collective energy was tangible. When the kirtan began, the mood was uplifting to say the least and with so many voices, was so beautiful I think we could have opened the gates of heaven.
It is times like this that remind me of why I live in this area (over and beyond the geographical beauty of this place) and what a huge sense of community we have. If I sit and think about it I have an incredible feeling of inner wealth and grace, which makes my heart swell.
I have friends who have been directly affected and have now spent the last month giving and helping to create a new life for those that have been devastated. Those poor people who have no choice but to get up each day and try to rebuild what is left. And even though there may seem like no hope for some I know that their hearts are open and they will have smiles on their faces because they believe that these things happen for a reason and that the gifts of the gods (God) will come again.
So it is with gratitude that I say thank you for every single one of you that attended on Sunday, it was a privilege to practice with you. And thank you to all of those that gave anyway and missed out on the experience of yoga :)
Yoga is an experience, it is not to be done, it is to be felt on so many levels. Let us find now many reasons to gather and practice as a community, let more and more people enjoy the gift of yoga. And what we receive from what we give to ourselves, through our practice, let us share and help to heal our global community.
See you in class....and don't forget the upcoming Winter Yoga Retreat (August 7-9th). If you love yoga, please share this email with a friend.
Namaste 
(I see the God in you, you see the God in me, together we are One)
Mjx